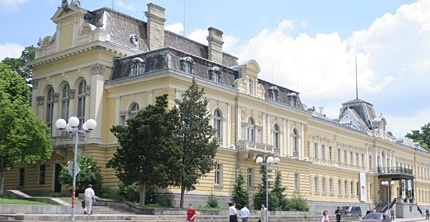 The National Gallery is a museum institution.
It is located on St.Alexander Nevski Square, 19th February 1 Str., Sofia, Bulgaria.
The museums in the National Gallery are:
Square 500 Museum (Alexander Nevski Sqr., 1 19-th February Str.)
Palace Museum (Knyqz Alexander I Square)
Museum of Christian Art (The Crypt of the Alexander Nevski Church)
Museum of Socialist Art (7 Lachezar Stanchev Str.)
Sofia Arsenal – Museum of Contemporary Art (2 Cherni vrah Blvd.)
The historic house museums of Ivan Lazarov, Nikola Tanev, Vera Nedkova, Alexander Bozhinov are also branches of the National Gallery.
Address & Contact
---
1 Knyaz Aleksander I Sqr., Sofia
---
Още галерии в този район :: More galleries in this area
---