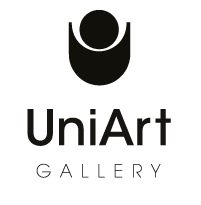 UniArt Gallery, the art space of New Bulgarian University, opened its doors on May 19, 2012 on the Day of Museums and Galleries in Sofia.  The family of Bojidar Danev donated the majority of the artworks. Danev was a long-standing executive director of the Bulgarian Industrial Association and member of the Board of Trustees in New Bulgarian University until 2018.
It is not a common practice in Bulgaria for higher education institutions to have a private collection and in this regard, UniArt is one of a kind exhibition space. The gallery gives students and visitors of New Bulgarian University the opportunity to explore works of art, to carry out projects, to attend seminars and various training sessions. It is a popular venue for a variety of events, including lectures, workshops, literary readings, book launches, master classes and chamber concerts and educational programs.
UniArt gallery's permanent exhibition consists of three collections:
 European Painting Collection, which contains works by Dutch and Flemish artists (17-19 centuries) that cover the spectrum of genders from the period.
Collection of Contemporary Bulgarian Painting with works by Ivan Kirkov (1932-2010), Ivan Nenov (1902-1997), Genko Genkov (1923-2006), as well as other key Bulgarian artists.
Collection of Contemporary Bulgarian Sculpture with works by Dimitar Kazakov – Neron, Pavel Koichev, Valentin Starchev, Stefan Lutakov, Emil Popov and others.
The gallery has a two-storeyed exhibition space and an outdoor area for the same purpose, located in the park of New Bulgarian University. The curatorial team is actively working on exhibiting the artworks from the fund, as well as presenting individual and group shows of Bulgarian and foreign artists in the creative program of the gallery. In recent years, the team of UniArt is committed in promoting young artists and students.
Address & Contact
---
21, Montevideo street, Sofia
42.677864, 23.25269389999994
---
Още галерии в този район :: More galleries in this area
---